ECOKENO
Software to optimize play
on Ontario Daily Keno , Quebec Banco
and others Keno Lotteries



| | |
| --- | --- |
| | Click here to download the shareware version of the software |
Download:
41$Can

Credit Card
PayPal
Postal Order, Check

Cdrom
44$Can
For the players of KENO , BANCO (4/70, 5/70, 6/70, 7/70, 8/70, 9/70, 10/70) this software has wheels that permit to optimize the play.
The program can print directly the slips (quebec banco , daily keno (ontario) , and others bancojass tickets (Suisse). It has a module that permits to show rapidly the number of good number in each board played.
The shareware version has 8 systems against 153 (actually) for the registered version.
ECOKENO can be run in french and english.
The software permits also to use wheels on external text files, this function permits to access to an illimited number of wheels.

SCREEN CAPTURES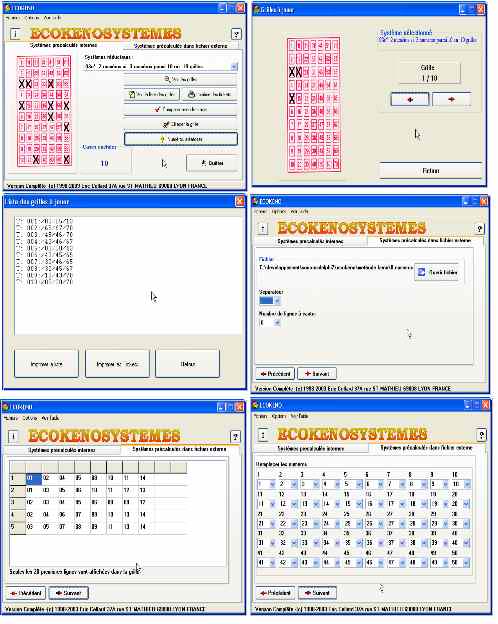 Wheels on the Complete version
03n°: 2 numbers if 3 numbers in the 10 in 10 boards
03n°: 2 numbers if 3 numbers in the 11 in 11 boards
03n°: 2 numbers if 3 numbers in the 12 in 13 boards
03n°: 2 numbers if 3 numbers in the 13 in 16 boards
03n°: 2 numbers if 3 numbers in the 14 in 18 boards
03n°: 2 numbers if 3 numbers in the 15 in 23 boards
03n°: 2 numbers if 3 numbers in the 16 in 27 boards
03n°: 2 numbers if 3 numbers in the 17 in 34 boards
03n°: 2 numbers if 3 numbers in the 18 in 38 boards
03n°: 2 numbers if 3 numbers in the 19 in 43 boards
03n°: 3 numbers if 3 numbers in the 07 in 35 boards
03n°: 3 numbers if 3 numbers in the 08 in 56 boards
03n°: 3 numbers if 3 numbers in the 09 in 84 boards
03n°: 3 numbers if 3 numbers in the 10 in 120 boards
03n°: 3 numbers if 3 numbers in the 11 in 165 boards
03n°: 3 numbers if 3 numbers in the 12 in 220 boards
03n°: 3 numbers if 3 numbers in the 13 in 286 boards
04n°: 3 numbers if 3 numbers in the 10 in 34 boards
04n°: 3 numbers if 3 numbers in the 16 in 140 boards
04n°: 3 numbers if 3 numbers in the 18 in 207 boards
04n°: 3 numbers if 4 numbers in the 6 in 3 boards
04n°: 3 numbers if 4 numbers in the 8 in 14 boards
04n°: 3 numbers if 4 numbers in the 08 in 14 boards
04n°: 3 numbers if 4 numbers in the 11 in 24 boards
04n°: 3 numbers if 4 numbers in the 12 in 39 boards
04n°: 3 numbers if 4 numbers in the 13 in 47 boards
04n°: 3 numbers if 4 numbers in the 14 in 63 boards
04n°: 4 numbers if 4 numbers in the 06 in 15 boards
04n°: 4 numbers if 4 numbers in the 07 in 35 boards
04n°: 4 numbers if 4 numbers in the 08 in 70 boards
04n°: 4 numbers if 4 numbers in the 09 in 126 boards
05n°: 3 numbers if 5 numbers in the 16 in 14 boards
05n°: 3 numbers if 5 numbers in the 17 in 39 boards
05n°: 3 numbers if 5 numbers in the 18 in 46 boards
05n°: 3 numbers if 5 numbers in the 19 in 55 boards
05n°: 3 numbers if 5 numbers in the 20 in 67 boards
05n°: 4 numbers if 4 numbers in the 16 in 405 boards
05n°: 4 numbers if 4 numbers in the 17 in 492 boards
05n°: 4 numbers if 4 numbers in the 18 in 664 boards
05n°: 4 numbers if 5 numbers in the 08 in 5 boards
05n°: 4 numbers if 5 numbers in the 09 in 9 boards
05n°: 4 numbers if 5 numbers in the 10 in 14 boards
05n°: 4 numbers if 5 numbers in the 11 in 22 boards
05n°: 4 numbers if 5 numbers in the 12 in 52 boards
05n°: 4 numbers if 5 numbers in the 13 in 83 boards
05n°: 4 numbers if 5 numbers in the 14 in 118 boards
05n°: 4 numbers if 5 numbers in the 16 in 134 boards
05n°: 5 numbers if 5 numbers in the 07 in 21 boards
06n°: 3 numbers if 3 numbers in the 7 in 4 boards
06n°: 3 numbers if 3 numbers in the 15 in 31 boards
06n°: 3 numbers if 4 numbers in the 11 in 15 boards
06n°: 3 numbers if 4 numbers in the 12 in 23 boards
06n°: 4 numbers if 4 numbers in the 12 in 41 boards
06n°: 4 numbers if 4 numbers in the 16 in 152 boards
06n°: 4 numbers if 4 numbers in the 18 in 236 boards
06n°: 4 numbers if 5 numbers in the 16 in 55 boards
06n°: 4 numbers if 5 numbers in the 17 in 71 boards
06n°: 4 numbers if 5 numbers in the 18 in 81 boards
06n°: 4 numbers if 6 numbers in the 9 in 3 boards
06n°: 4 numbers if 6 numbers in the 12 in 6 boards
06n°: 5 numbers if 5 numbers in the 07 in 6 boards
06n°: 5 numbers if 5 numbers in the 10 in 50 boards
06n°: 5 numbers if 6 numbers in the 08 in 4 boards
06n°: 5 numbers if 6 numbers in the 09 in 8 boards
06n°: 5 numbers if 6 numbers in the 11 in 22 boards
06n°: 5 numbers if 6 numbers in the 13 in 61 boards
06n°: 5 numbers if 6 numbers in the 14 in 96 boards
06n°: 6 numbers if 6 numbers in the 08 in 28 boards
07n°: 4 numbers if 4 numbers in the 16 in 76 boards
07n°: 4 numbers if 4 numbers in the 17 in 100 boards
07n°: 4 numbers if 4 numbers in the 18 in 131 boards
07n°: 5 numbers if 5 numbers in the 13 in 78 boards
07n°: 5 numbers if 5 numbers in the 14 in 138 boards
07n°: 5 numbers if 7 numbers in the 12 in 6 boards
07n°: 5 numbers if 7 numbers in the 14 in 17 boards
07n°: 5 numbers if 7 numbers in the 15 in 26 boards
07n°: 5 numbers if 7 numbers in the 16 in 46 boards
07n°: 5 numbers if 7 numbers in the 17 in 89 boards
07n°: 5 numbers if 7 numbers in the 18 in 128 boards
07n°: 5 numbers if 7 numéros in the 13 in 10 boards
07n°: 6 numbers if 6 numbers in the 09 in 16 boards
07n°: 6 numbers if 6 numbers in the 10 in 45 boards
07n°: 6 numbers if 6 numbers in the 11 in 84 boards
07n°: 6 numbers if 7 numbers in the 09 in 4 boards
07n°: 6 numbers if 7 numbers in the 10 in 10 boards
07n°: 6 numbers if 7 numbers in the 11 in 24 boards
07n°: 6 numbers if 7 numbers in the 12 in 52 boards
07n°: 6 numbers if 7 numbers in the 13 in 112 boards
07n°: 6 numbers if 7 numbers in the 14 in 192 boards
07n°: 7 numbers if 7 numbers in the 09 in 36 boards
08n°: 5 numbers if 5 numbers in the 16 in 117 boards
08n°: 5 numbers if 5 numbers in the 17 in 190 boards
08n°: 5 numbers if 5 numbers in the 18 in 269 boards
08n°: 5 numbers if 8 numbers in the 12 in 3 boards
08n°: 6 numbers if 6 numbers in the 10 in 12 boards
08n°: 6 numbers if 6 numbers in the 13 in 101 boards
08n°: 6 numbers if 8 numbers in the 12 in 3 boards
08n°: 6 numbers if 8 numbers in the 14 in 24 boards
08n°: 6 numbers if 8 numbers in the 15 in 37 boards
08n°: 6 numbers if 8 numbers in the 16 in 65 boards
08n°: 6 numbers if 8 numbers in the 17 in 106 boards
08n°: 7 numbers if 7 numbers in the 09 in 8 boards
08n°: 7 numbers if 7 numbers in the 10 in 20 boards
08n°: 7 numbers if 7 numbers in the 11 in 63 boards
08n°: 7 numbers if 7 numbers in the 12 in 126 boards
08n°: 7 numbers if 8 numbers in the 11 in 11 boards
08n°: 7 numbers if 8 numbers in the 12 in 39 boards
08n°: 7 numbers if 8 numbers in the 13 in 84 boards
08n°: 7 numbers if 8 numbers in the 14 in 127 boards
08n°: 7 numbers if 8 numbers in the 15 in 238 boards
08n°: 8 numbers if 8 numbers in the 10 in 45 boards
08n°: 8 numbers if 8 numbers in the 11 in 165 boards
08n°: 8 numbers if 11 numbers in the 12 in 3 boards
09n°: 6 numbers if 9 numbers in the 15 in 12 boards
09n°: 7 numbers if 9 numbers in the 13 in 6 boards
09n°: 7 numbers if 9 numbers in the 14 in 17 boards
09n°: 7 numbers if 9 numbers in the 15 in 20 boards
09n°: 7 numbers if 9 numbers in the 16 in 50 boards
09n°: 7 numbers if 9 numbers in the 17 in 108 boards
09n°: 8 numbers if 8 numbers in the 10 in 9 boards
09n°: 8 numbers if 8 numbers in the 12 in 84 boards
09n°: 8 numbers if 8 numbers in the 13 in 185 boards
09n°: 8 numbers if 9 numbers in the 12 in 13 boards
09n°: 8 numbers if 9 numbers in the 13 in 41 boards
09n°: 8 numbers if 9 numbers in the 14 in 128 boards
09n°: 9 numbers if 9 numbers in the 10 in 10 boards
09n°: 9 numbers if 9 numbers in the 11 in 55 boards
09n°: 9 numbers if 9 numbers in the 12 in 220 boards
09n°: 9 numbers if 12 numbers in the 15 in 36 boards
10n°: 7 numbers if 10 numbers in the 15 in 3 boards
10n°: 7 numbers if 13 numbers in the 20 in 6 boards
10n°: 8 numbers if 8 numbers in the 11 in 9 boards
10n°: 8 numbers if 8 numbers in the 12 in 18 boards
10n°: 8 numbers if 8 numbers in the 13 in 52 boards
10n°: 8 numbers if 9 numbers in the 12 in 5 boards
10n°: 8 numbers if 10 numbers in the 13 in 4 boards
10n°: 8 numbers if 10 numbers in the 14 in 11 boards
10n°: 8 numbers if 10 numbers in the 15 in 23 boards
10n°: 8 numbers if 10 numbers in the 16 in 44 boards
10n°: 8 numbers if 10 numbers in the 17 in 89 boards
10n°: 9 numbers if 9 numbers in the 12 in 33 boards
10n°: 9 numbers if 10 numbers in the 12 in 6 boards
10n°: 9 numbers if 10 numbers in the 13 in 16 boards
10n°: 9 numbers if 10 numbers in the 14 in 65 boards
10n°: 9 numbers if 10 numbers in the 15 in 183 boards
10n°: 9 numbers if 10 numbers in the 16 in 264 boards
10n°: 9 numbers if 10 numbers in the 17 in 587 boards
10n°: 9 numbers if 10 numbers in the 18 in 1197 boards
10n°:10 numbers if 10 numbers in the 12 in 66 boards
10n°:10 numbers if 10 numbers in the 13 in 286 boards
10n°:10 numbers if 12 numbers in the 15 in 63 boards
10n°:10 numbers if 14 numbers in the 15 in 3 boards
10n°:10 numbers if 15 numbers in the 20 in 160 boards


Software that permits to optimize play on the Super7 lotto



36$Can / 39$Can